MyDrinkBomb®
The Original Drink Bomb™ are artisan handcrafted cocktail Drink Bomb™ made with natural ingredients, edible flowers and natural fruit flavors for your drinks.
Simply add a Drink Bomb™ to sparkling water then add your favorite alcohol of choice and garnish - it's that easy! 
 A new and fun twist to drinking cocktails or mock-tails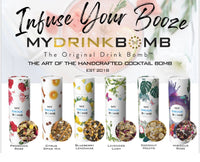 MyDrinkBomb® Infuse Your Booze
MYDRINKBOMB® NEW RELEASE
Includes one 10 oz. glass infuser bottle, instructions, decorative protective tube and a signature infusion packet (net wt. 28.35 g)

Also available infusion refill four packets packed in a decorative gift box.

Individual infusion packets - see flavors
Prosecco Rose
Coconut Mojito
Blueberry Lemonade
Hibiscus Rose
Lavender Lush
Bloody Mary
Moscow Mule
Old Fashioned
Floral Mix
Orange Cranberry
Espresso

Contact your local Sales Representative for more details or register:
WWW.WHOLESALE.MYDRINKBOMB.COM

Order Now
MyDrinkBomb® Edible Glitter
Cocktail Inspired Chakra Soy Candles
Hand-poured, not stirred. These soy-wax candles are made to mimic classic cocktails.
Each candle comes with a corresponding chakra so you can channel your inner mixologist and keep the atmosphere and mood on-point all at once.
Order Now!